News
COMMISSION MEETING
January 19, 2016. 4:30-6:30 p.m.
Nobili Room-PCOE ANNEX
365 Nevada Street
Auburn, CA 95603

---
EVALUATION COMMITTEE MEETING
January 23, 2016. 11:30-2:30 p.m.
Tahoe Room-PCOE ANNEX
365 Nevada Street
Auburn, CA 95603

Spotlight
CAR SEAT LAW CHANGES JANUARY 1, 2017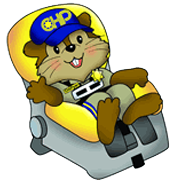 Effective January 1, 2017:
Children under 2 years of age shall ride in a
rear-facing car seat unless the child weighs 40
or more pounds OR is 40 or more inches tall.
See the California Highway Patrol website for
more information.
Announcements
FIRST 5 PLACER IS RECRUITING COMMISSIONERS!
First 5 Placer has openings for TWO Commissioners

Are you interested in serving as a board member for an agency that makes a difference in the lives of children and families in Placer County?
First 5 Placer is the public entity responsible for receiving and disbursing Placer County's Proposition 10 tobacco tax funds and carrying out the implementation of the California Children and Families Act by supporting community partnerships and programs that enhance the lives of children, from the prenatal stages through age 5, and their families. First 5 Placer is a semi-autonomous County entity governed by a nine-member Commission and is supported by two staff through the Placer County Office of Education.
Commissioners meet monthly to review trends in areas of health, safety and development of children in the County, assess resources and gaps in resources for families, works to improve efficiencies and support the capacity of systems serving children and families. The Commission works with staff to develop and review a Strategic Plan, and allocate and monitor resources.
For more information, please contact Janice LeRoux, Executive Director at This e-mail address is being protected from spambots. You need JavaScript enabled to view it. or call 530-745-1304. The fact sheet and application are available here on our website in the GET INVOLVED section above!